The first night of Lollapalooza kicked off in full swing with artists and notables flocking to TAO Chicago on Thursday night. Hip hop artist and Chicago native, Taylor Bennett, was spotted dining at TAO Chicago's restaurant with a group of friends still donning their festival wristbands as they noshed on Drunken Lobster Pad Thai, Lobster & Shrimp Spring Rolls and variety of sushi. Also spotted dining at the restaurant was Swedish DJ and festival artist, Alesso, who enjoyed Satay of Chilean Seabass, Pad Thai Noodles, Chu Toro and Kampachi sashimi, and sake with friends after performing at Lollapalooza. Festival artist, Party Favor, also enjoyed dinner with his girlfriend and friends before heading to the nightclub at TAO Chicago to perform for guests at the official after show.
Coming off an incredible headline set on Thursday at Lollapalooza, The Chainsmokers hosted a private dinner and party in the restaurant's Ink Bar, celebrating birthdays for two of their team members. The group dined family style on Omakase platters, Spicy Tuna & Crispy Rice, Crispy Orange Chicken and Honey Glazed Salmon. Bebe Rexha stopped by for the special birthday cake presentation before the entire group made their way upstairs where they danced the night away and sang along when the DJ played several of The Chainsmokers' hit songs.
Lollapalooza artist and DJ, Gryffin, was spotted dining at TAO Chicago on Friday night with a large group, enjoying a variety of dishes like Sizzling Soy Chicken, Spicy Tuna Crispy Rice, New York Strip and Black Pepper Chili Chicken, before making his way to TAO's adjoining nightclub to perform for guests as the headliner of the official after show. Fans lined up early to see Gryffin in action as he put on an energetic performance and the crowd danced and sang along to hits like "All You Need to Know" and "Feel Good." Also spotted dining at TAO Chicago was DeMarcus Cousins of the Los Angeles Lakers who noshed on Chicken Satay and Spicy Tuna Tartare with a small group. Hot off the heels of a dramatic season of The Bachelorette, stars Dustin Kendrick, Mike Johnson and Clay Harbor, who is also set to appear on Monday night's upcoming season premiere of Bachelor in Paradise, were also spotted together in the TAO Chicago Nightclub enjoying the Gryffin performance along with artist Tyla Yaweh and Alec Benjamin.
After another great day at Lollapalooza, the packed TAO Chicago nightclub went wild on Saturday night when hometown hero Chance the Rapper took the stage as the surprise special guest for the official Lolla after show. Stage screens read "Congratulations, Chance!" to celebrate his "The Big Day" album just released last week as fans cheered and danced along to new songs like "Hot Shower" and "All Day Long" which references the TAO brand. The beloved Chicagoan was also spotted on the dance floor enjoying the evening with friends and fans. Ahead of a signing event with Tom Brady, MLB legend Roger Clemens lounged in the Ink Bar with friends before heading to the nightclub to celebrate his birthday starting at midnight. He serenaded the club in the DJ booth to "Play that Funky Music" and pumped his fists with the rest of the nightclub-goers. Also up in the nightclub was professional gamer Ninja who enjoyed bottles of Dom Pérignon and Belvedere Vodka next to the DJ booth while YouTube star David Dobrik chilled with friends before meeting Chance. Back in TAO Chicago's restaurant, Sydney Sweeney from the hit show Euphoria dined with friends and enjoyed Spicy Tuna Tartare on Crispy Rice, Chicken Satay and Beef Mongolian before heading to the nightclub. Also dining at the restaurant were Chicago Bears stars Khalil Mack and Eddie Jackson, Denver Nuggets' Michael Porter Jr., and Milwaukee Brewers' Zach Davies and Jeremy Jeffress.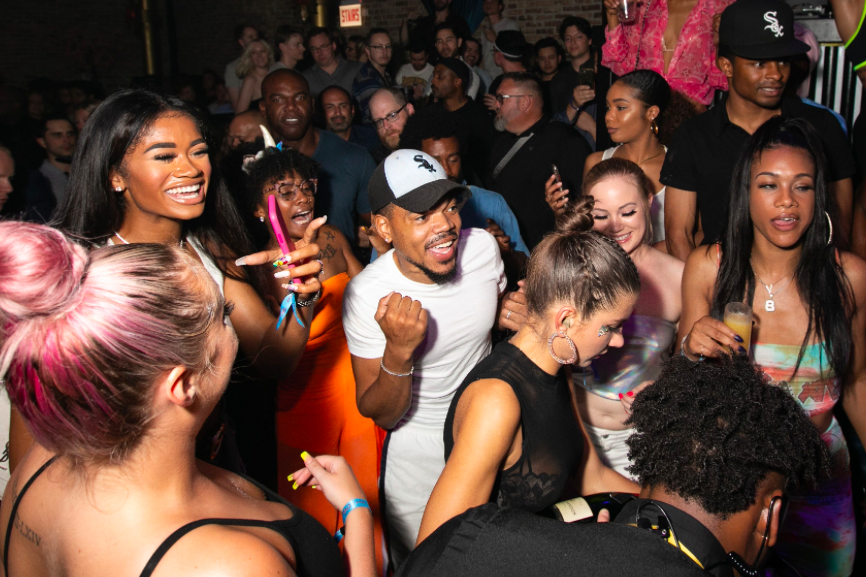 Lollapalooza closed out its final night as festivalgoers flocked to TAO Chicago's nightclub on Sunday where artist Sheck Wes took the stage at the official after show. Sheck Wes stood on top of the DJ booth and gave an energetic performance for fans as they sang along to hit songs like "Live Sheck Wes" and "Mo Bamba." Also spotted dining at TAO Chicago was singer Rosalía Vila Tobella who enjoyed dishes like Spicy Tuna Tartare on Crispy Rice and Miso Roasted Black Cod with a group of friends.