Chicagoland restaurants and hotels are rolling out the red carpet this Mother's Day (Sunday, May 14) with elaborate brunches, sweet treats, and seasonal patio sips. From a lavish meal downtown to a trip to the spa, make mom feel like a queen with these special offerings throughout the city:

Restaurants
Kick off Mother's Day with Brunch and Bouquets
Ada Street (1664 N. Ada St.)
This Mother's Day, shower mom with love by taking her to brunch at Ada Street. The menu, created by Executive Chef Joanna Stachon, includes creative takes on brunch classics like Fried Chicken Thigh & Waffles with bacon-infused maple syrup and apple butter, and Peeky Toe Crab Pot Pie with asparagus and English peas. Ada Street also has the flowers covered, offering bouquets for sale upon making a reservation.
The menu will be offered a la carte on Sunday, May 14 from 11 a.m. – 4 p.m. Reservations are strongly recommended and can be made by calling 773.697.7069. Stay in touch by following Ada Street on Instagram.
Treat Mom to Brunch at The Barn
The Barn (Rear 1016 Church St., Evanston)
The Barn, a meat-centric hideaway housed in a 19th century brick barn hidden away down an alley in Evanston, offers a special three-course brunch this Mother's Day. Chef Nicole Pederson's decadent à la carte brunch at the restaurant – which just opened November 1 – offers a plethora of options such as Soup de Poisson ($9.95); Little Gem Salad and Creamy Dijon Salad ($11.95); The Grand Central Caviar Sandwich ($18.95); a choice of Prime Heritage Angus steaks, such as the 14 oz. Bone-In New York ($46.95); Za'Atar Roasted Half Chicken ($22.95); and more.
Reservations can be made by calling 847.868.8041 or online at www.thebarnevanston.com.
A Soulful Spin on Mother's Day Brunch
Cindy's (12 S. Michigan Ave.)
The rooftop restaurant's weekly soul brunch service, Uptown Downtown, receives a maternal touch when resident DJ Dave Mata turns over the turntables to his mom. Mama Mata spins an all vinyl set of vibrant Soul music from every corner of the globe.
While grooving to the music, moms and kids feast on Chef de Cuisine Keith Potter's large format brunch platters such as Steak & Eggs with stone-ground grits, mushroom conserva, fried egg, and crispy potatoes or the cast iron Dutch Baby topped with maple roasted pear, pomegranate molasses, and crème fraiche.
Reservations for Cindy's can be made by calling 312.792.3502, by emailing cindysinfo@chicagoathletichotel.com, or by visiting www.cindysrooftop.com. Follow Cindy's on Facebook, Instagram, and Twitter.
Give Mom the Royal Treatment
The English Room at The Deer Path Inn (255 E. Illinois Rd., Lake Forest, IL)
On Mother's Day, every mom should be treated like the queen that she is at The English Room. Recognized as one of the leading dining venues on Chicago's North Shore, The English Room provides a truly regal champagne brunch for Mother's Day. The brunch will feature a selection of breakfast offerings, pastries, seafood, sushi, salads, and a carving station that includes lamb, ham, and more. For dessert, guests can look forward to chocolate-covered strawberries, crème brulée, and macarons.
The Deer Path Inn's elaborate Afternoon Tea service is also available for mothers looking to dine on petite fours, finger sandwiches, an assortment of curated teas, and prosecco. A more playful tea service is even available for the tots.
The lavish brunch at The Deer Path Inn is served from 11 a.m. – 3 p.m. on Sunday, May 14 for $65 per person. To reserve a table, please call 847.234.2280.
The Perfect Mother's Day Date at Found
Found (1631 Chicago Ave., Evanston)
This Mother's Day, enjoy a special spring-inspired brunch with the whole family at Found Kitchen & Social House. Located just outside Chicago in Evanston, the warm and inviting Parisian-inspired kitchen and social house serves seasonal, rustic new American fare in a spirited atmosphere with shared items for the table including Baby Romaine "Wedge Salad" with blue cheese, diced tomatoes, and bacon; a choice of items to share such as Traditional Filipino "Pancit Canton" with chicken, Chinese egg noodles, carrots, and snap peas; Pork Enchiladas with salsa roja, corn tortillas, queso fresco, rice and beans; and Grilled Steak with roasted potatoes, zucchini parmesan cheese and garlic. For dessert, enjoy Rhubarb Torte, Anise Cookies with candied fennel, and Ginger Molasses Cookies. Chef Nicole Pederson's Mother's Day brunch costs $38 for adults and $18 for children under 12, exclusive of tax and gratuity. Children under 5 years old eat for free.
Reservations can be made by calling 847.868.8945 or online at www.foundkitchen.com.
Take Mother's Day to New Heights
GreenRiver (259 E. Erie St. 18th Floor)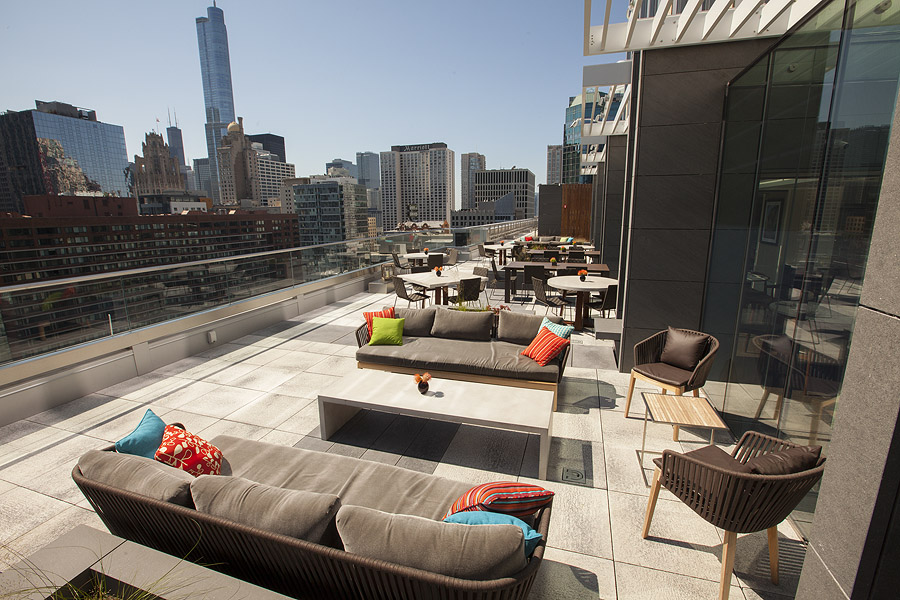 Put mom's 'love on top' by heading to GreenRiver's terrace this Mother's Day. Soak in the jaw-dropping skyline and lake views while enjoying Executive Chef Aaron Lirette's & Executive Pastry Chef Ji Yoon's Michelin-starred modern American brunch dishes. Celebrate the Spring season by snacking on the Whitefish Tartine with Egg, Radishes, and Celery ($12), Brioche Pain Perduor with Apples, Butterscotch, and Maple Syrup; or get down on the famous GR Burger with Hook's Cheddar, Pickles, and House Sauce ($15).
Clink glasses with patio-friendly cocktails from managing partner Jack McGarry such as the Diamond Jim with Del Maguey Mezcal, Creme de Framboise, Old Bay, Cava ($15) or the Tommy Gun with Kappa Chilean Pisco, Pineapple, Lime, Garam Masala, Aromatic Bitters ($15).
GreenRiver's terrace opened for weather-permitting service on April 1, and operates during the restaurant's regular hours. Brunch is served from 11 a.m. – 3 p.m. on Sunday, May 14. Outdoor seating is available on a first come, first serve basis. For more information, please visit www.greenriverchi.com. To stay updated on news and events, please follow GreenRiver on Instagram, Facebook, and Twitter.
Mother's Day Brunch on the Magnificent Mile
Howells & Hood (435 N. Michigan Ave.)
The Michigan Avenue dining destination known for its robust draft system of over 120 craft beers is celebrating Mother's Day with a specialty brunch, available for $39 per person.
From 9 a.m. – 3 p.m., guests can indulge in carving, charcuterie, seafood, and omelet stations, as well as specialty dishes such as Chicken Chilaquiles, Cauliflower Casserole, Lobster Benedict, and the Howells & Hood Meatloaf
A Sun-Soaked Mother's Day Feast
I|O Godfrey at The Godfrey Hotel Chicago (127 W. Huron Ave.)
Moms who need a sunny spring-time escape can celebrate their special day at I|O Godfrey's Mother's Day brunch at the city's largest indoor|outdoor rooftop lounge. The lady of the day is invited to feast on a buffet of brunch classics like waffles and omelets, along with a special carving station and an assortment of house-made pastas, salads, and other lunch items.
Family time can be spent with ease at the brunch due to I|O Godfrey's kids playroom and face-painting. Little ones can enjoy themselves and eat breakfast sweets, while mom indulges in a Mimosa or Bloody Mary while soaking up the rays on the rooftop.
I|O Godfrey's Mother's Day brunch can be enjoyed for $39 per person ($12 per child 12 and under) from 11 a.m. – 3 p.m. To reserve a spot, please visit OpenTable.
Mother's Day Bossa Nova Brunch at La Sirena Clandestina
La Sirena Clandestina (954 W. Fulton Market)
Sweep mom off her feet this Mother's Day, and take her on a culinary adventure through South American cuisine at La Sirena Clandestina. The Latin-local restaurant hosts a Bossa Nova Brunch on Sunday, May 14 from 10 a.m. to 3 p.m. Guests can enjoy live music throughout the afternoon while enjoying a Latin spin on the brunch classics including the Benedict with Dende-Poached Lobster ($18), with avocado mash, malagueta hollandaise, and a poached egg or something on the sweeter side such as the Tapioca Nordestina ($12) with manioc crepes, cream cheese, strawberry-rhubarb preserves, cocoa nib whipped cream and pistachio.
La Sirena Clandestina is open for Brunch Friday and Saturday from 11 a.m. – 3 p.m. and Sunday from 10 a.m. – 3 p.m. For more information, visit www.lasirenachicago.com.
Lawry's Loves Moms
Lawry's The Prime Rib (100 E. Ontario St.)
Treat mom to a true dining experience at Lawry's The Prime Rib, a timeless steakhouse excelling in tableside service since 1974. The regular menu is available this Mother's Day, with a selection of items available including Lawry's Famous Prime Rib, Atlantic Lobster Tail, and Atlantic Salmon, plus classic sides such as creamed corn, creamed spinach, fresh asparagus, and a sizzling skillet of mushrooms. Every mother will also receive a complimentary white carnation, the official flower of Mother's Day.
Lawry's is open from 12 – 8 p.m. on Sunday, May 14. Regular menu pricing is offered, and a children's menu is available for kids aged 12 and under. Reservations are strongly recommended and can be made by calling 312.787.5000.
A Decadently Delicious Mother's Day Brunch
Maple & Ash (8 W. Maple Street)
Maple & Ash and Executive Chef Danny Grant host an elegant Mother's Day Brunch on Sunday, May 14. The meal starts with the restaurant's famous Fire Roasted Seafood Tower for the table. Chef-manned stations include: egg station serving omelets made-to-order, ham and beef tenderloin carving station and an epic breakfast station with items such as fresh fruit, yogurt, granola, warm smoked salmon, bacon, sausage, waffles, and accoutrements. Maple & Ash's housemade Ricotta Agnolotti will be served table-side and the meal finishes with a dessert station featuring a selection of housemade pastries compliments of Executive Pastry Chef Aya Fukai. Maple & Ash's Mother's Day Brunch is priced at $65 for adults and $20 for children 12 and under (does not include tax or gratuity).
Mother's Day Brunch at Maple & Ash takes place Sunday, May 14, 2017 from 10 a.m.-2:30 p.m. Reservations can be made on OpenTable, or by calling the restaurant at 312.944.8888. For more information, please visit www.mapleandash.com or follow Maple & Ash on Facebook, Instagram, and Twitter.
Memories with Mom at Marigold Maison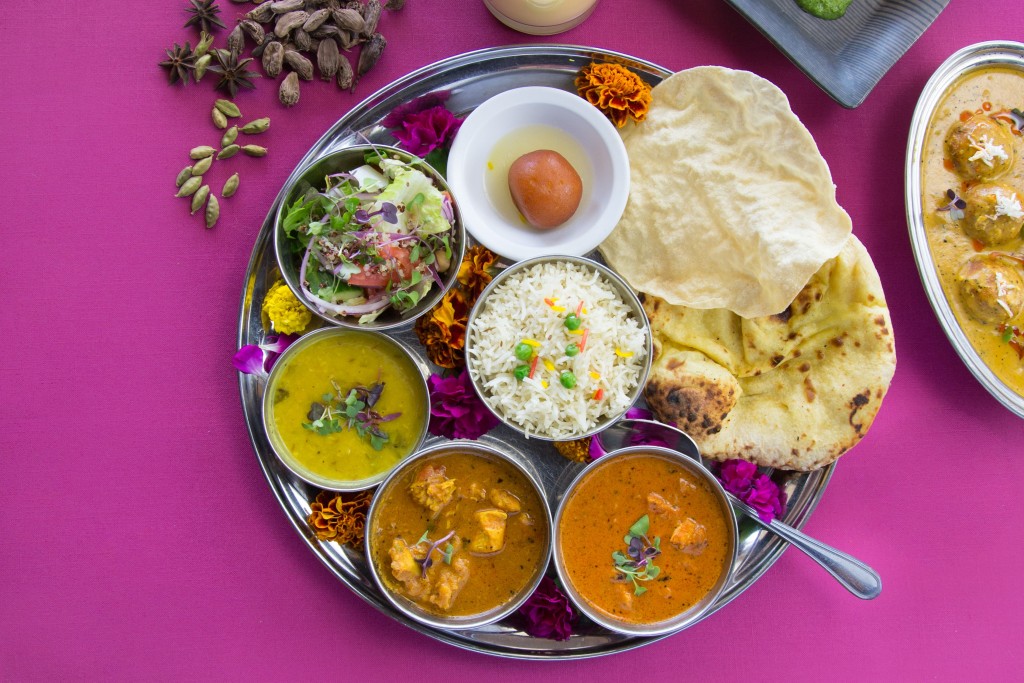 Marigold Maison (900 Milwaukee Ave., Lincolnshire, IL)
Make Mom's day with a Mother's Day meal fit for a queen! Marigold Maison is pulling out all the stops and offering the Mother's Day Thali Platter for both lunch and dinner service. The Mother's Day Thali Platter ($28) allows guests their choice of appetizer and platter (main course), followed by Mango Kulfi for dessert, and of course, a glass of rosé to top it off. Some standout appetizer options include Tandoori Shrimp or Mango Salad, and for platters, Chicken Tikka Masala, Saag Paneer, Lentil Soup or Lamb Curry. Additionally, the a la carte menu will be offered all day.
Marigold Maison's Thali Platter is priced per person, exclusive of tax and gratuity and will only be offered on Sunday, May 14. Lunch service is from 11:30 a.m. to 2:30 p.m. and dinner service is from 5 p.m. – 9 p.m. For more information, please visit http://www.marigoldmaison.com/, follow Marigold Maison on Twitter, Instagram or "like" the restaurant on Facebook.
Portillo's Chocolate Cake to Ship and Share with Mom
Portillo's (Available online for nationwide shipping, and all Portillo's locations)
Mother's Day just got a little sweeter: Portillo's is bringing back its Heart-Shaped Chocolate Cakes for a limited-time only. The iconic Chicago brand is making it easier than ever to show mom how much you care, with nationwide cake shipping available through Portillo's online store. A portion of the proceeds from every heart shaped cake purchased will benefit The American Red Cross, up to $5,000.
Portillo's Heart-Shaped Cakes are available to ship nationwide from May 1 – 31, via portillos.com. Orders include one single-layer chocolate cake, spatula, and do-it-yourself icing.
Heart-Shaped Cakes will be available for pick-up in-store from May 12-14. Beginning May 1, customers pre-order the sweet treat by calling 866-YUM-BEEF or ordering online at www.portillos.com, or visiting or calling the Portillo's store nearest to them.
Not Your Mainstream Mom's Brunch
Roka Akor Chicago (456 N. Clark)
Executive Chef Boyd Cheong knows just how to butter up moms this Mother's Day as Roka Akor Chicago, the city's premiere robatayaki-style Japanese restaurant, presents unique brunch specials in addition to the a la carte lunch menu. Asian-inspired twists on brunch classics include Crab Cake & Yuzu Hollandaise Sauce ($15), Pork Belly & Potato Hash with Fried Egg ($15), and Red Bean Pancake with Fresh Berry Compote and Whipped Cream ($12). Other lunch and dinner classics from the a la carte menus include dishes like Chirashi with Cucumber, Avocado and Salmon Roe ($19) and Madai Crudo with Seared Red Sea Bream with Grapefruit Vinaigrette and Chive Oil ($22).
The lunch a la carte menu and brunch specials will be served from 11:30 a.m. – 2:30 p.m., with the dinner a la carte menu offered from 5:00 to 9:00 p.m. on Sunday, May 14. Reservations are strongly recommended. For more information on Roka Akor Chicago please visit www.rokaakor.com/chicago, and follow the restaurant on Facebook, Instagram, and Twitter.
Cater to Mom with Prix Fixe Robatayaki
Roka Akor Old Orchard (4999 Old Orchard Shopping Center, Skokie)
Relax and rest assured because Roka Akor Old Orchard has Mother's Day plans taken care of with prix fixe offerings for lunch and dinner. For lunch, Roka Akor Old Orchard is serving guests a three-course prix fixe menu ($45) with a choice of an entrée and limited a la carte brunch offerings. Some standout lunch choices include Prime Beef and Kimchi Dumplings with Soy Vinaigrette, Kanpachi Sashimi with Frisée and Yuzu Truffle Vinaigrette and Yuzo Miso Marinated Black Cod with Pickled Red Onions. For dinner, guests can enjoy four-courses of delicious robatayaki fare with the full a la carte menu available ($75). Dinner prix fixe standouts include Grilled Diver Sea Scallops with Yuzu Aioli and Crushed Wasabi Pea, Chef's Selection 5-kind Sashimi, Prime New York Strip with Truffle Aioli and to end the night perfectly – Warm Chocolate Cake with Homemade Coffee Ice Cream. Additionally, each guest that dines at Roka Akor Old Orchard on Mother's Day could win a spa treatment for the woman of the day.
Roka Akor Old Orchard's prix fixe menu is priced per person and exclusive of tax and gratuity. Lunch service is from 11:30 a.m. – 3:30 p.m. and dinner service is from 3:30 p.m. – 9:30 p.m. on Sunday, May 14. Guests may enter to win a spa treatment for mom by filling out a comment card – one entry per person. For more information, please visit rokaakor.com/old-orchard/, follow Roka Akor Old Orchard on Twitter and Instagram or "like" the restaurant on Facebook.
A Glorious Brunch for Mom
Sepia (123 N. Jefferson St.)
Treat mom to a Mother's Day brunch fit for a queen with a magnificent prix fixe menu from Chef Andrew Zimmerman and Pastry Chef Sarah Mispagel. Mom can choose from menu items including a Smoked Salmon Tartine or the Chickpea Crepe with swiss chard, leeks, roasted mushrooms, fried egg, and tomatillo vinaigrette. If she's looking to imbibe, specialty brunch cocktails are available for $12.
The prix fixe brunch is offered on Sunday, May 14 from 10 a.m. – 3 p.m., at $57 for adults and $32 for children. Reservations are required, and can be made by calling 312.441.1920. For more information, follow Sepia on Instagram.
Mother's Day Brunch Atop the Hancock
The Signature Room (875 N. Michigan Ave.)
Allow mom's expectations to soar as high as the Hancock for Mother's Day. Executive Chef Cardel Reid delivers an extensive brunch menu at The Signature Room, including a Starters Buffet of salad, seafood, charcuterie, savory beignets, seasonal quiche, and more; chef-attended stations highlighting Roasted Prime Rib and Customized Omelets; and entrées including Blueberry Pancakes with honey lemon curd, Fusilli Pasta with crispy Brussels sprouts and kale, and others. A children's menu is also available, including options such as Macaroni & Cheese, Scrambled Eggs with bacon or sausage, and more.
Mother's Day brunch is available from 10 a.m. to 6:30 p.m. on Sunday, May 14 for $80 per adult (includes one glass of Signature Room Sparkling Wine) and $35 per child. Children under age 3 eat for free. These prices are exclusive of tax and gratuity. Reservations are required and can be made by calling 312.280.0465.
A Memorable Peruvian Mother's Day
Tanta (118 W. Grand Ave.)
Treat mom to a memorable Mother's Day this year at Tanta as Executive Chef Jesus Delgado is cooking up a few one-day-only specials to celebrate the lady who will always love you. Dishes include Tiradito Bachiche with fluke slices in parmesan leche de tigre, confit cherry tomatoes, crispy quinoa, and crispy fish skin; Grilled Ramps Anticucheras with taro and goat cheese pure, poached eggs and crispy bacon; and Causa Miraflorina with crab salad, artichoke, avocado & smoked salmon tartare, crispy artichoke, and rocoto cream.
Tanta's Mother's Day specials are available on Sunday, May 14 for both brunch and dinner. Reservations are recommended and can be made by calling the restaurant at 312.222.9700 or by visiting www.tantachicago.com. For more information, follow Tanta on Facebook, Twitter, and Instagram.
A Brunch for the Matriarch
True Food Kitchen Chicago (1 W. Erie St.)
True Food Kitchen raises a glass to magnificent moms with a specialty cocktail available only on Mother's Day: The Matriarch ($9). Moms are invited to celebrate their day with this spring-time-inspired beverage made with a light and fresh blend of organic vodka, lavender simple syrup, and lemon.
Every mother who brunches at True Food Kitchen on Sunday, May 14 will not only get to enjoy tasty items like Quinoa Johnny Cakes and Garden Scramble, but will also leave with a Mother's Day gift at the end of the meal. Reservations at True Food Kitchen for Mother's Day can be made through OpenTable.
Hotels
The Art of Mother's Day at The Langham, Chicago
The Langham, Chicago (330 N. Wabash Ave.)
The Langham, Chicago invites families to treat mom this year on Sunday, May 14th to an extravagant sweet and savory, floral-themed Mother's Day Brunch and more. Set throughout the hotel's elegant second floor, the hotel's Executive Chef Anthony Zamora will collaborate with his team to present guests with a vast brunch spread, with menu options including: Poached Eggs Benedict, Brioche French Toast with Vermont Maple Syrup, and Vanilla Pearl Sugar Belgian Waffles. Extravagant favorites include a Bountiful Ocean seafood station featuring such delicacies as Chilled Jumbo Shrimp, Alaskan Snow Crab and King Crab, and freshly shucked Oysters. A Carving Station with Honey Glazed Ham and Rosemary Roasted New York Strip will delight guests, along with an Omelet Station, featuring cage free eggs and egg whites with choices for cheese, meats and vegetables. The Smokehouse Station will offer three different house-smoked and cured salmons, cream cheeses and mini bagels. In true brunch fashion, the hotel will offer guests a complimentary Mimosa and as an add-on, guests can choose to also indulge in the Bloody Mary Bar, complete with mixologist selections of spirits, mixers, and garnishes. Finally, those looking to end their meal on a sweet note can visit the Crepe Station, or choose from a lavish selection of tarts, éclairs, petit fours, cakes, macaroon, cookies, and candies.
In addition to spoiling mom with a decadent Mother's Day Buffet, guests can sit back and enjoy the relaxing music of a live jazz band and the fanciful illusions of a magician. Prior to departure, families will have the opportunity to stand with their leading lady in front of a 'Langham Pink', hand-made paper floral wall for a family photo to take home.
Seating available from 10:30 a.m. – 3:30 p.m. Adults are $145 per person (exclusive of tax and gratuity) and children up to 12 years old are $50 each (exclusive of tax and gratuity), ages 4 and under eat for free. To make reservations, please call 312.923.7705 or visit www.langhamhotels.com/chicago.
Treat Mom Like a Queen with a 24K Gold Spa Treatment
JW Marriott Chicago (151 W. Adams St.)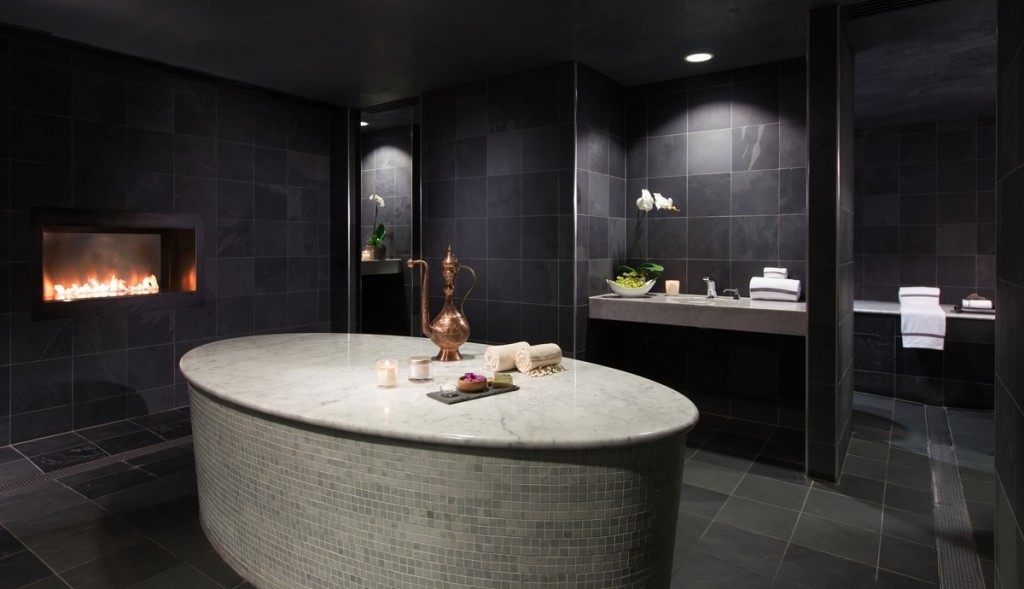 Guests are invited to treat mom like a queen, draping her in a light, aromatic veil of gold with the 24K Gold spa treatment at Spa at JW Chicago, located inside JW Marriott Chicago. The new 24K Gold treatments incorporate Moroccanoil Cleansing Bar enveloped in an exfoliation mitt, a detoxification which includes the generous application and envelopment of mineral-rich gold mud derived from the healing seas. Pamper mom with an 80-minute 24K Gold Collagen Facial ($205), 80-minute 24K Gold Body Envelopment with Scalp Massage ($225), or an 80-minute 24K Gold Signature Luxe Massage ($205), or combine all three in the 24K Gold Package or Luxe Package to give her the gift of ultimate radiance.
Reservation required, click here or call 312.660.8250 to reserve.